The Franciscan Banjo
This was my first Bluegrass banjo. My wife bought it for me for Christmas in 1993. This is the banjo that stays in my locker at work and that I play during breaks and lunch. I converted it to an open-back by removing the resonator and the arm rest. It has a surprisingly nice sound for a cheap banjo made in Taiwan.

It has probably the fanciest inlay of all of my banjo's and a real ugly peghead. The peghead is very large and it has those geared guitar type tuners. I replaced the 5th string tuner with a Grover, because the other one was junk. The bridge is made out of some unidentifiable wood, but does the job. It has a Remo head with many yogurt stains and other assorted goodies, as I try to eat and pick due to some time constraints.

Yes, once again this is the back of that same banjo. There is just no fooling you.... Who says banjer players is dumb??? This canoe paddle looks very new, but I have gotten a lot of use out of it. It definitely does the job.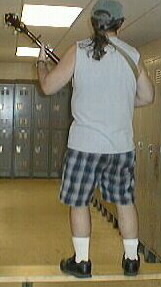 This is my BEST side....!! Banjo madness caused me to jump up on this bench and begin frailin' like mad. Yahoooo....!!!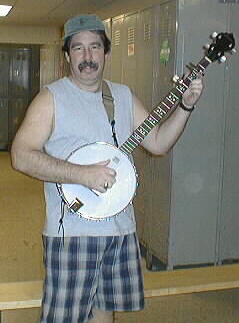 This is my other side....Am I having fun or what??? The best part of playing at work is that everybody enjoys my playing. I have been asked to play at the Christmas party and everyday a whole bunch of people sit near my locker to listen and relax. They actually get upset when I don't play right away. They just about let me eat my lunch, before they begin to request songs. I can't account for their behavior. For the longest time I would sit there very quietly practicing some songs. Gradually, people began to ask me to play louder, so they could hear it. Now they want a tape of my songs to play when I am not there. It really helps my confidence and playing to have some encouragement instead of the negative feedback I thought I would get. I mean this is a TOUGH crowd....
Back to the Homepage...



Photos on this page by:Teper